*Note from your Publisher: this is not meant to replace the advice of your own Doctor! ALWAYS check with your Doctor. If you have any swelling of the throat or lips, call your doctor immediately!
With summer upon us the creatures are all around us. Traditionally we plant gardens of vegetables. But some of those plants need nature to pollinate them to produce fruit. Those nature pollinator aka bees can become pesky creatures if you get stung by one.
I recently offered advise to a friend who found herself in that situation.
Several years back perhaps more than a decade we were trimming shrubs and my son a mere lad at the time, 7 or 8 was helping to pick up trimmings and reached into the shrub to be surprised by bees. He ended up being stung on the back if his hand and his thighs. Well, certified first aid instructor mom jumped in whisked him into the bathroom to scrape the sites to remove stingers. Finding none, I cleaned the sting site. His hand was swelling more than his thighs. I gave him a Benadryl and decided to call "Blues on call"-our insurance carrier. I just needed to hear from a nurse that I was doing the right thing for a bee sting. She said that I only needed to take him to an emergency room if the swelling went past the second joint. Ok we were not there yet! So then she asked if I would like some homemade remedies. Sure I said.
She suggested that I boil an onion, let it cool and place it on the stings.
He was in pain, so to speed things up, I put the onion in the microwave for two minutes until it was just soft. I separated it into rings on a paper plate and placed it in the freezer for a few minutes in order to cool. Then I placed the rings on the stings and wrapped a towel around the onions to hold them in place. Ten minutes later all the redness was gone and the swelling had drastically gone down. The nurse explained that the enzymes in a cooked onion neutralized the body's reaction to the venom. All was well.
A couple of months later while we were at a local amusement park, he came off a ride and while grabbing the handrail, squashed a bee and got stung. I was there with my two kids and a friend and her daughter. She watched the kids as I searched for a concession stand that sold hot dogs. I went up to the window asked if they had cooked onions for the hot dogs. Yes the attendant replied. I told them I would like a scoop of onions. Of course I got strange looks. But it did the trick. A day not ruined by a sting!
I was just reminded of these events when I saw the picture a friend posted of a picture of her swollen hand after being stung by multiple bees on social media. I offered her my story. She got to try it for herself just a week later. She sent me picture of onion on her finger and was amazed how well it work.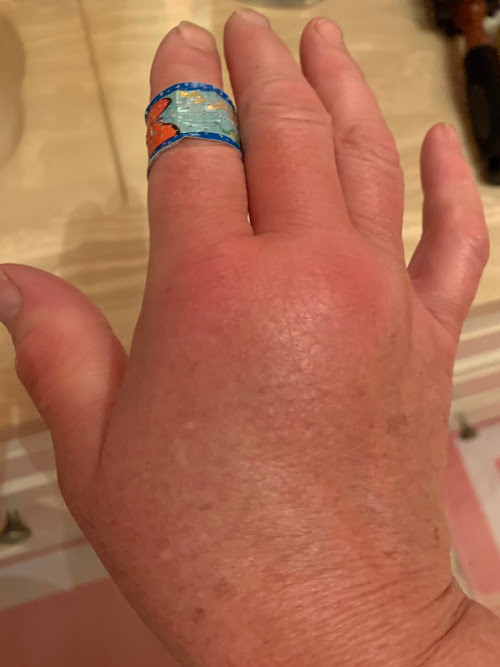 Moral to story always have onions in the house for those summer mishaps.
*Note from your publisher: I am the one who was stung by the bees. I'm a beekeeper and was at fault for being stung. I had the wrong gloves on while working in my hive. Honey bees don't want to sting you because they can only sting once or they will die. My bees got caught in the knit fabric of my gloves and struggled to get free and stung me in self defense. I wanted Mary to share this wonderful remedy because I'm all about bees and natural solutions that actually work. I'm so glad she saw my post and was willing to write this article for us!
What happened before I got the nasty stings.
🌸 Macaroni Kid Johnstown/Laurel Highlands/Altoona is a free weekly e-newsletter and website that highlights all of the great things for kids and their families to do in the community. Plus, you can find fun activities, family-focused businesses, book and product reviews, recipes, crafts, and much more! Macaroni Kid Johnstown/Laurel Highlands/Altoona serves families in Johnstown, Ligonier, Ebensburg, Hollidaysburg, Altoona and other surrounding communities.
Get a FREE event calendar for the Johnstown-Laurel Highlands-Altoona , PA region full of festivals, fairs, activities, events and more! Sign up by clicking HERE!
Is your business, church or group holding a family-friendly event that is not listed? Submit the event by CLICKING HERE! Thank you!