Let me just preface this article by saying that before I sat down to write it I ran the vacuum cleaner on a 90+degree day of rest Sunday. It's a way that I've learned to collect my thoughts over the years. Sort of a grounding exercise.
That brings me to what we're talking about. Dealing with stress, anxiety and anger is an important skill to learn early especially these days with fall school plans up in the air and the kids facing another round of onscreen learning.
Mother of 2 and child therapist Janine Halloran ,MA, LMHC has a passion for helping kids get a good start with her series of books that outline strategies for coping with stress in different ways to build their emotional and mental health. The "Coping Skills for Kids Workbook" is a bestseller which details tips for parents about ways to identify stress in their children but is by no means meant to be a substitute for professional help if needed.
We joined the Women's Help Center at Stackhouse Park last week to share this important information with a willing group of parents and their kids. The adults were just as interested and one shared that she had a friend who suffered from anxiety but that the "Coping Skills for Kids Workbook" is geared to kids 4-10 years of age, it used many of the same techniques as adult books but was much easier to follow and incorporate quickly.
Our goal was to make stress balls (the directions are on page 58) which is a way Ms. Halloran suggests to use physical coping skills to get rid of excess energy and/or process feelings of worry, frustration, sadness and anger in a productive and safe manner. It's important for kids to learn that these feelings are okay and that there are proper ways to deal with them.
| | | |
| --- | --- | --- |
| | | |
Needless to say, the whole process of making the stress balls was a redirecting exercise! We had a table set up and it was a challenge with social distancing rules for the kids to be patient for their turn but they were patient with the help of another of Ms. Halloran's breathing tips. We had them hold up their hands , spread their fingers wide and breathe in as they traced the outside of their thumb with the pointer finger of the other hand. Then we had them exhale as they traced from the thumb tip to the base of the pointer finger. Inhale as they traced to the top, exhale down, inhale up to the top of the middle finger, exhale down to the base of the ring finger, inhale to the top and exhale to the base of the pinky, inhale to the top of the pinky and exhale as they traced the outside of the pinky and to the wrist. Before they knew it, they had done 5 nice deep breaths felt so much calmer until their turn came. I hope you tried it as you read this!
| | | |
| --- | --- | --- |
| | | |
With the help of this book and others in the series, you can help your kids identify where their stress happens. Is it at school? Maybe it's at home or somewhere else. The time of day or when kids are with others or alone are important to know too. This book is a wonderful guide of WHAT questions to ask and filled with so many techniques. I can't recommend it enough! I can't wait to dig in to the other Coping Skills For Kids Activity Books: "Processing Feelings" which follows characters Polly and Paul learning to cope better when they understand how their thoughts and feelings work. Roxie and Rex cope better when they are given an opportunity to relax and restore their inner peace in "Relaxation Round Up". And then there is the one we can all learn to do. "My Happiness Journal" is an exercise where your child uses of the skills learned from the characters: processing, sensory, distraction, relaxation, and movement to focus on what makes them happy and they journal!
So many of the ideas use items that you probably already have around the house. For the stress balls, we followed the easy directions and used sandwich bags, filled them with flour, twisted the tops then cut the ends off of 2 balloons, stuffed the flour filled bag into one the balloon and then into another balloon the opposite way so that there was no way the flour would leak. Most of the kids did this easily and some took a little more time, but as our kids are learning, the process is part of the exercise. They happily squeezed away and some made more than one. This is a great way to use up old pantry items like rice, dries beans, flax seeds or anything else you can think of.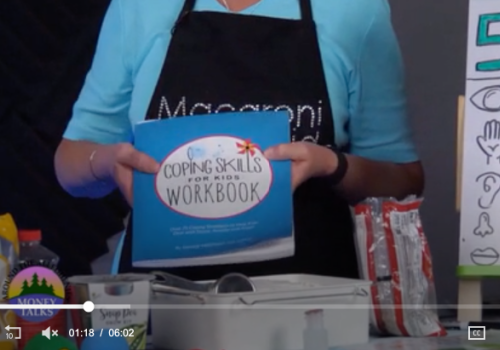 We'll be showing how to make these stress balls and more ideas with Christine Strugala on a new show called "Around the Alleghenies" premiering on August 11 at 10:35 on Fox 8 and 12:30 PM ABC 23 just in time for the new school year.
I have to share that one of my favorite tips in the book is to learn something new and I'm a big advocate of knitting for kids. Here's a short tutorial I put together with a simple poem to remember the steps. It's easy for kids and adults to learn and a great way to deal with stress.
You can check out these books and the prestigious Mom's Choice Award Winner "The Ultimate Playdate Guide" on Amazon or at copingskillsforkids.com. All of the books will be available in digital format so that you can download them right from your home.
Connect with Coping Skills for Kids at their website and the following social channels.