CAMBRIA CITY, JOHNSTOWN, PA – Young creatives, ages 8 to 15, can participate in an immersive arts education series featuring the region's art leaders in the disciplines of drawing, painting and folk & traditional arts beginning Saturday, Jan. 23, 2021 at the Bottle Works Arts Ethnic Arts Center (411- 413 Third Ave. Johnstown, PA 15906).
Each Saturday from 9:30 AM – 12:30 PM, striving artists will have a chance to learn from and work alongside professional artists to gain a deeper knowledge of art basics and foundations, and learn a variety of techniques. Students will learn how to treat professional-grade art supplies, create an arts exhibition featuring their work over the course of the nine weeks, and plan a graduation and opening reception. The academy is broken into three segments: Drawing, Painting and Folk & Traditional Arts. Students can sign up for all three segments, or they can create their own path by registering for segment that interest them. At the end of the program, Arts Academy students will earn a "Master of the Arts" certificate and receive Bottle Works swag if they participated in two or more sessions.
"For the 2021 Arts Academy season, we are pleased to offer two explosive experiences: in-person in the ArtWorks Event Center, or virtually via our online teaching platforms," says Director of Advancement & Operations Melody Tisinger.
"By a grant provided by the Community Foundations for the Alleghenies, we were able to fully transform the academy." Students are able to flex between an in-person or an online experience. Since the wake of the pandemic, the Bottle Works has been re-imagining program engagement. Safety tips and guidelines outlined by the CDC will be followed for all in-person sessions. Guidelines include wearing masks indoors, practicing social/ physical distancing when possible, frequently washing hands, and sanitizing high touch points. Participants experiencing COVID-19 symptoms are encouraged to say home and participate via our online platforms.
Registration is now open for virtual or in-person experiences. Registration fees are as follows:
Three-Week Segment Registration
$100 for Non-members
$95 for BW member
Nine-week Registration:
$275 for Non-members
$255 for BW Members
Full and partial scholarships are available. Funds are limited. Students registering for all nine-weeks of Arts Academy will take precedence.
"Thanks to the generosity of 1st Summit Bank, AmeriServ Financial, CFA, Martin-Baker America and S&T Bank, we are able to offer financial support to students who wish to engage in this program but may not have the means to do so. It is our belief that high-quality art experiences should not be prohibited by cost," says Tisinger.
Arts Academy sessions will be led by accomplished professional artists and arts educators from across the region.
Instructors include:
• Norman Ed, Johnstown, PA
• Beverly J. Struble, Johnstown, PA
• Sarah Hunter, Greensburg, PA
• Kimberly Williams, Johnstown, PA
• Barry Poglien, New Florence, PA
• Eddie Maier, Morgantown West Virginia
• Joanne Mekis, Johnstown, PA
Arts Academy Segment & Session Details
Segment One - Drawing: Building Foundation and Capturing Creativity with Norman Ed
Class Dates: January 23, 30 & February 6, 2021
Class Time: 9:30 AM – 12:30 PM
Local artist and retired teacher Norman Ed will inspire you to challenge your perspective in this three-part drawing series. Students will develop a strong foundation in observational drawing, learn about continuous/ contour line drawing, and explore other drawing techniques. Over this three-week course, young artists will create their own large-scale graphite drawing using the grid method, which is used to enlarge or compress drawings. Student's subject matter will be based on individual choice and expression.
All About Norman Ed
Mr. Norman Ed is a profound artist from Johnstown, Pennsylvania. He is a master of various disciplines including drawing, painting, carpentry, and sculpture making to name a few. He earned his Pennsylvania Teacher's Certificate and a bachelor's in Fine Art in Interdepartmental Studies with a concentration in glass from the Tyler School of Art at Temple University in Philadelphia. Mr. Norm continued his art education at Indiana University of Pennsylvania, of Indiana, PA. Eventually, he returned to Johnstown where he became an arts education teacher at Westmont School District. He taught in the Westmont School District for 30 years! Now as a retired educator he continues to practice art focusing on mixed media sculpture design and installation. Check our Mr. Norm's artwork on at his Website: www.normaned.com
Segment Two – Painting: Watercolors, Portraits and Mixed Media
Class Dates February 13, 20, & 27, 2021
Class Time: 9:30 AM – 12:30 PM
Explore the discipline of painting with these three talented artists. You will learn painting basics, techniques, and more from Beverly Struble (painter and potter), Sarah Hunter (painter and art educator), and Kimberly Williams (painter and mixed media master) during segment two of Arts Academy. Each week participants will learn a different skill, and at the end of the segment, students will have three unique pieces of artwork using watercolor, acrylics, and mixed media.
Class One: Abstract Watercolor Pencils with Beverly J. Struble
Class Date: February 13, 2021
Class Time: 9:30 AM – 12:30 PM
Paint the desires of your heart with local artist and educator Beverly J. Struble. Valentine's Day is around the corner, and to get in the spirit of "love", Ms. Beverly will ask students to create a painting inspired by the people or things they appreciate and adore. Participants will explore watercolor techniques and finishes using common household items such as table salt, rubbing alcohol and more. The purpose of this workshop is to teach students how to create from their heart-space, rather than their mind. Ms. Beverly and Ms. Holly will also lead students in a mindfulness session centered around gratitude, love, and joy.
About Beverly J. Struble
It would seem that an environmental biologist and master level social worker could not be a gifted artist, but this is not the case for Ms. Beverly J. Struble. Her passion for nature, animals, and her overall love for the environment influences the art she makes. Ms. Beverly has worked in the Arts and Culture sector for many years. Before becoming an Arts Education Teacher at Divine Mercy Catholic Academy eight years ago, she worked as an art museum coordinator giving tours and organizing educational programs. Ms. Beverly finds joy in painting, making pottery, and encouraging aspiring artists to know that there are no mistakes in art, only opportunities for creativity. Ms. Beverly resides in Johnstown, Pennsylvania.
Class Two: Self-portraits with a Twist with Sarah Hunter
Class Date: February 20, 2021
Class Time: 9:30 AM – 12:30 PM
Before selfies on Facebook and Instagram, the only way to portray oneself was through the art of self-portraits. Self-portraits became extremely popular in the Mid-15th Century. Artists could paint themselves as the main subject, as heroes in their own stories or as whatever their minds could imagine. Self-portraits provides an opportunity to capture a version of oneself that no one else sees. With the guidance of professional artist and educator Sarah Hunter, students can sketch and paint, on canvas, a self-portrayal of themselves using a photo or their imagination as inspiration. During this exercise, painters are encouraged to change or exaggerate facial features. Again, artwork is based on how you see yourself. Work does not have to be realistic. Artists will learn about proportions, values, and more. Students taking this class are asked to bring a picture of themselves to class.
About Sarah Hunter
Ms. Sarah is an emerging artist who resides in Westmoreland County. She is most recognized for her prolific portraits that seem to capture the beauty of the human spirit in every stroke. As an artist, she is not interested in representing the reality of the world as directly seen; rather, her intent is to allow audiences to see and feel the layers underneath: the emotions, the spiritual exoskeleton of the human race and of nature. Her goal when teaching others is to help them explore what could be and the unseen. Ms. Sarah graduated from Saint Vincent College (Latrobe, Pennsylvania) in 2012. She teaches art classes at various art centers in Westmoreland County. She has exhibited her paintings in several galleries such as the Bottle Works Ethnic Arts Center, the Greensburg Art Center, Latrobe Art Center, Saint Vincent College, and the Westmorland Cultural Trust's Art in the Alley. Her pieces are also included in the Saltsburg Free Library's permanent Collection. Check out Sarah's artwork on her Website.
Class Three: Inspired Mixed Media with Kim Williams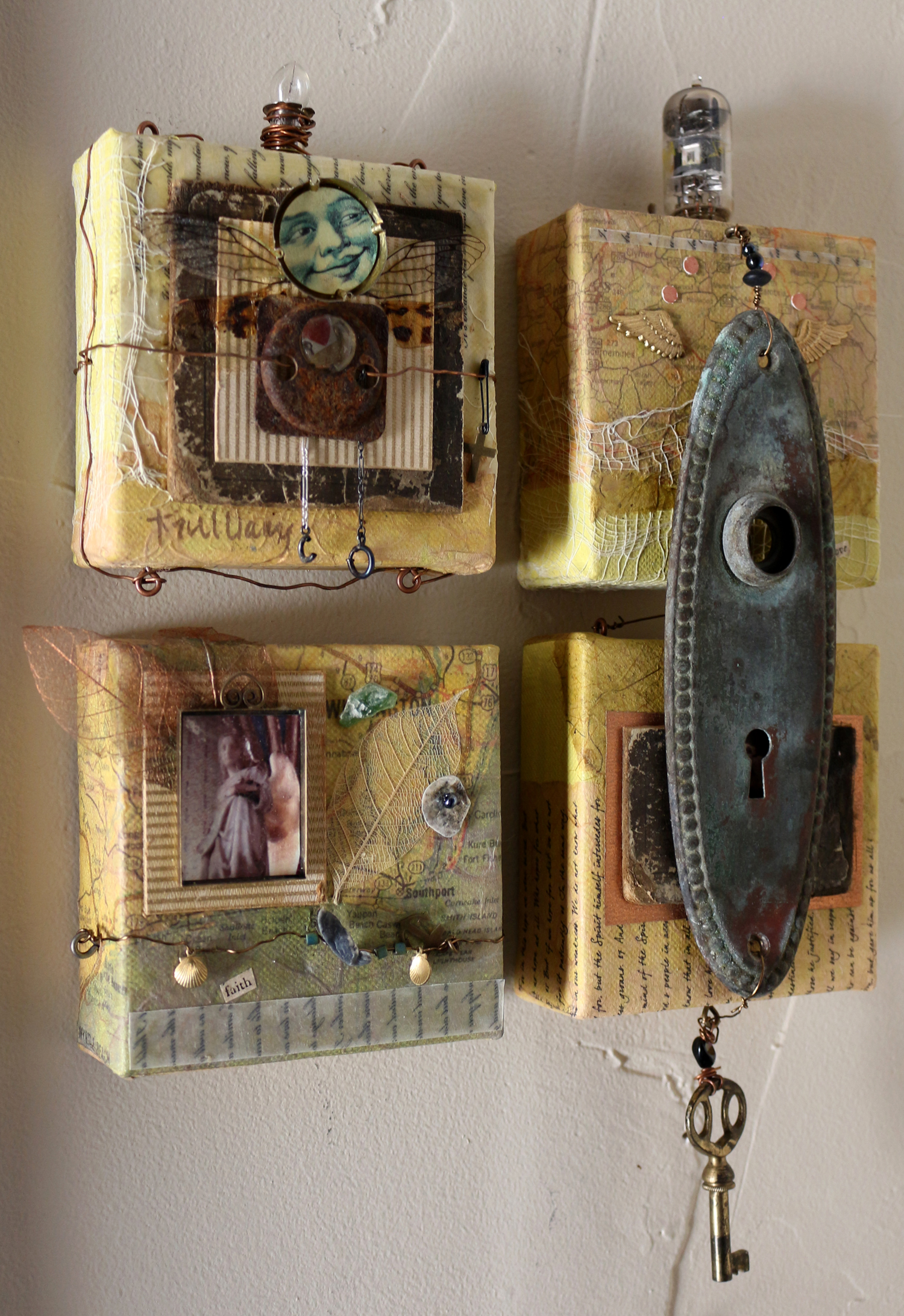 Class Date: February 27, 2021
Class Time: 9:30 AM – 12:30 PM
Flex your imagination in this super-creative workshop with mixed media artist Kim Williams. Ms. Kim will teach students how to recognize what inspires them and how to use these inspirations when designing art. Students are encouraged to bring along anything that engages your creative mind, also known as ephemera. Such items can include poems, pictures, books, letters, and small trinkets. At the end of the class, each student will have a 6" x 6" gallery wrapped canvas artistically describing what motivates them.
About Kim Williams
Kim Williams discovered her love of art at a young age. Her father saw that she has a natural ability and sought to find formal instruction for this young creative. She began taking art classes from a community art teacher. Her love for art lead her to earn a degree from The Art Institute of Pittsburgh. As an art professional, Ms. Kim worked at the Tribune Democrat/ Johnstown Magazine as the Design Editor. During her 33-year career, she created advertisements and designed books published by the Tribune Democrat. Books she designed include Homelands, Domes and Spires, Heroes Were Made, and Slap Shots and Snapshots. In 2015, Ms. Kim decided to fully pursue her art career. She is the proud business owner of 365 Inspired Art, which features nature-themed artwork. She also showcased her work in various exhibitions at the Southern Alleghenies Museum of Art in Altoona, Pennsylvania and the Bottle Works Ethnic Arts Center in Johnstown, Pennsylvania. Check out Kim Williams artwork at her Website.
Segment Three – Folk & Traditional Crafts
Class Dates March 6, 13, & 20, 2021
Class Time: 9:30 AM – 12:30 PM
Want to learn more about a culture or heritage? You should start by explore their art! Folk & traditional arts are rooted in and reflective of the cultural life of a community. This art form embodies the expressive philosophy associated with the fields of folklore and cultural heritages. Whether learning traditional dances or eating meals from recipes that have been passed down from generation to generation, we all have experienced folk & traditional art in some way, shape, and form.
Class One: Animals in 3-D with Barry Poglein
Class Date: March 6, 2021
Class Time: 9:30 AM – 12:30 PM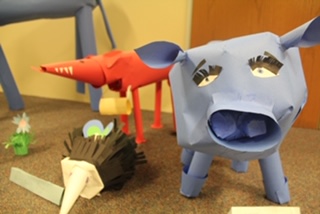 Make a 3-dimensional paper model of an animal out of PAPER with Folk & traditional artist Barry Poglein! Mr. Barry will teach students how to construct a 3D animal, using kraft paper. The creation of objects from paper is generally referred to as 3D paper modeling. This is the art form of transforming sheets of paper into recognizable items. Paper molding derives from Japanese culture. There are two ways to construct paper models: cutting paper (kirigami) or folding paper (origami).
About Barry Poglein
Barry Poglien is a true renaissance man. His artistic interests include music, carpentry, drawing, and metalsmithing to name a few. Mr. Barry worked as a drafting and arts education teacher in Greater Johnstown School District in Johnstown, Pennsylvania, for more than 20 years. As a retired teacher, he spends his time making music and swimming in his log-heated wooden pool he built himself!
Class Two: Printing Making with Eddie "Spaghetti" Maier
Class Date: March 13, 2021
Class Time: 9 AM – 12 PM
Learn the ancient art of printmaking with artist Eddie "Spaghetti" Maier. Printmaking is the artistic process of transferring images from wood, glass, or metal onto another surface, usually fabric or paper. Printmaking derives from China, who is also accredited to inventing paper-imagine that! Students will etch an image onto plexiglass, then use ink and a printing press to make unique art prints.
About Eddie "Spaghetti" Maher
Johnstown native Eddie Maher is a muralist, painter, and printmaker (the art form that he practices the most). Mr. Eddie now resides in the mountains of Morgantown, West Virginia where he teaches printmaking, drawing, and other techniques. Mr. Eddie attributes his success to years of hard work and dedication to his craft. In his early years he felt most connected with clay and pottery making on a wheel. But during a trip abroad to Australia, he learned how to do woodcut printing, and it there that he found his calling.
Check our Eddie's artwork on his Website.
Class Three: Crafting Kraslice Eggs with Joanne Mekis
Class Date: March 20, 2020
Class Time: 9:30 AM – 12:30 PM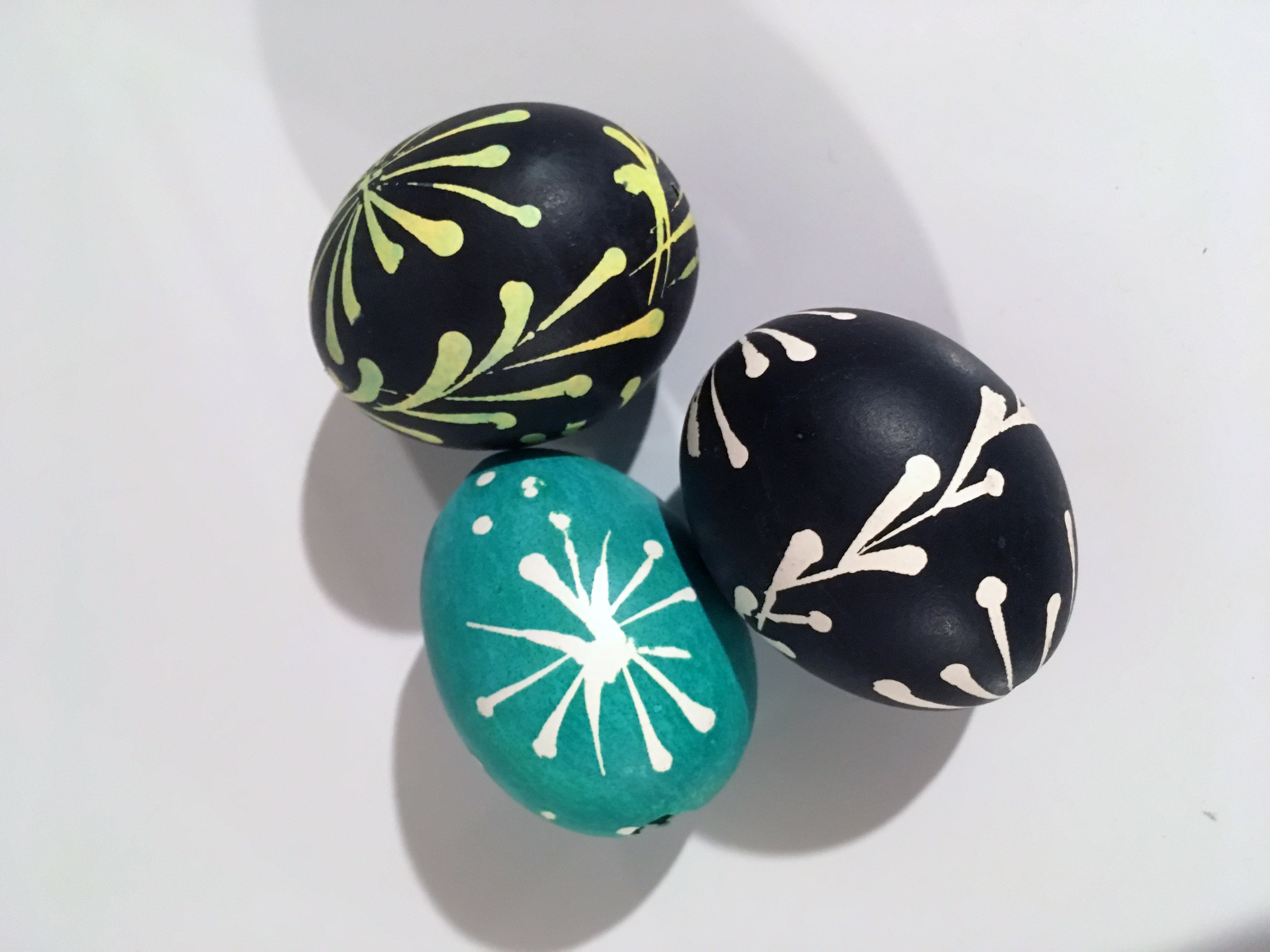 Engage in this Eastern European tradition with award-winning artist Joanne Mekis! Ms. Joanne will teach students the ancient art form of egg dying called Karslice. Students will decorate the shell of hard-boiled egg using hot, colored wax and dyes. The colors, patterns, and designs used have symbolic significance. You will learn the meaning of the traditional symbols, and students will have a chance to create their own symbols and designs.
About Joanne Mekis
Joanne Mekis is an award-winning graphic designer living and working in West-Central Pennsylvania. She works in many facets of graphic design with a concentration in branding, logo design, and layout. Joanne has an art studio at the Bottle Works Ethnic Arts Center (Art Works Building) where she uses her space to create paintings; transform up-cycled materials into art; educate adults and youth about art history; and meets with clients regarding graphic design and other projects. When not doing all things creative, Joanne can be found working with youth, bicycling, hiking, cooking, and reading. She has completed two half marathons. She camped and hiked in the: Grand Canyon, Mesa Verde, Canyonlands, Great Smokies, Arches, Bryce Canyon, Zion, Natural Bridges, Canyon De Chelly, Assateague, and many other U.S. National Parks. In 2018, Joanne completed an 8-week residency at the Grunewald Guild in Leavenworth, Washington. She has also led many mission trips to Honduras, Central America where the team provided healthcare and education throughart to thousands of adults and at-risk youth. Check out Joanne artwork on her Website.