The weather is taking a turn for the worse, roads are impassible and you haven't made it to the store this week to stock up. Even if you had made it to the store, the likelihood that you will find what you need could be in jeopardy by people hoarding the basics as they panic for what is being predicted.
We've all been there at least once in our lives. Weather is unpredictable. So are other events such as water main breaks, fire, earthquake, uprisings and more. At any point in time, an event could begin that makes you question why you weren't prepared.
I'm not a 'prepper' by any means, but I've lately been watching (maybe too much?) prepper videos due to my concern that SOMETHING could happen that is outside of my control that would affect my ability to provide for my children. While some of the prepper videos expect everyone has an abundance of money lying around, access to insane amounts of protective equipment, etc, some of them take into account those of us living day to day that suddenly realize after watching news footage from another country's disaster that our family is not prepared to be confined to our homes due to impassible roads or to "bug out" should the need arise.
No matter what resource you go to, whether it's a YouTube video or a government website, the first task on everyone's list is to have an emergency kit, or bug out bag, for everyone in your family with at least 3 days worth of supplies. I've perused resources to find out what exactly should be in an emergency kit, how much and the best storage. I hope this information is useful to you and that you'll begin to think about what your family would do in an emergency situation.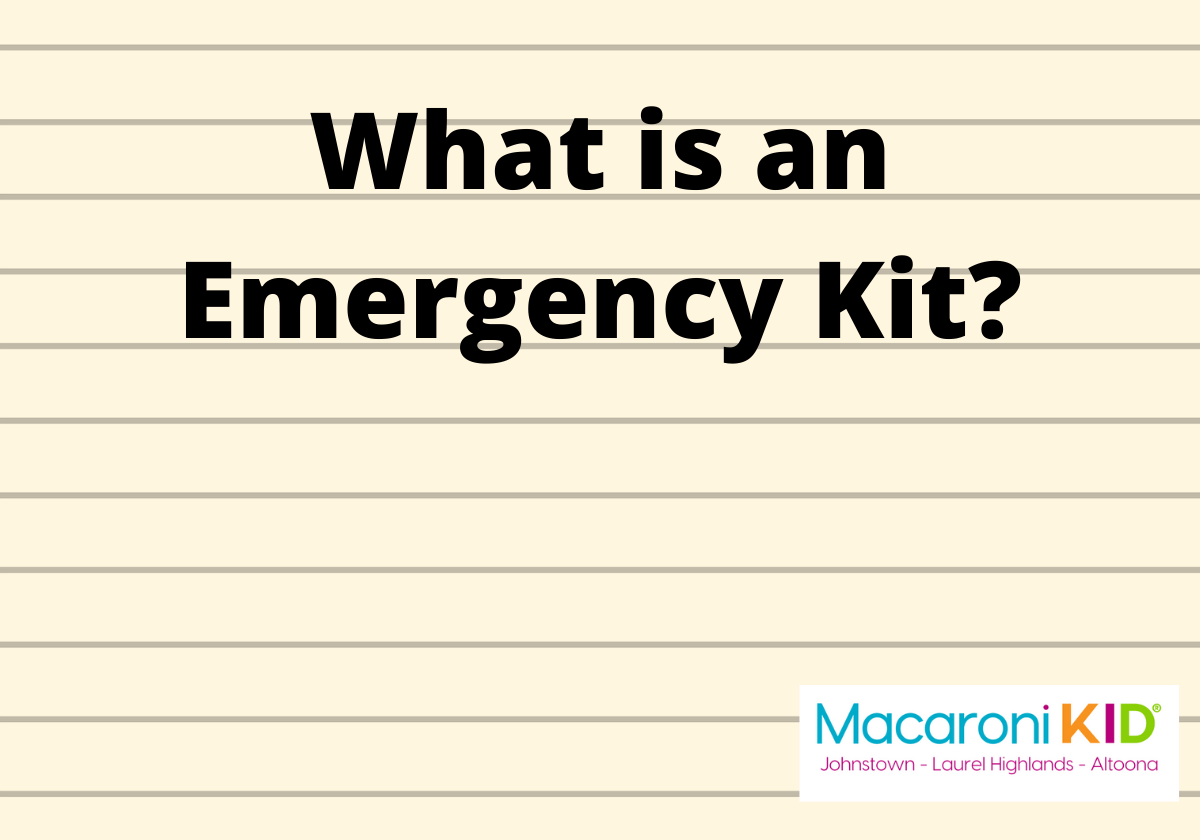 What is an emergency kit?
According to definitions,net, an emergency or survival kit is "a package of basic tools and supplies prepared in advance as an aid to survival in an emergency." You should have basics that will help in any weather, as well as some key items specific for the different seasons. Kits are best packed into backpack or hiking pack type bags that are easy to grab in case of an emergency and are easily carried if mobile transportation is not available. You can purchase well built bags at local sporting goods stores or purchase them online. You can even purchase ready-made bags that are packed with the basic essentials and some even providing pouches of water and MRE type foods that are packaged to last several years. Try to find ones that have been approved by FEMA.
Is there a determined list of what should be packed?
This topic can be debated for days by professionals, military personnel, preppers and coworkers at the water cooler. Everyone has their "must have" items and those will change from person to person, month to month and year to year. Some of the essential items are those you will need for shelter, food, defense and hygiene.
Packing a emergency bag can be stressful, especially when packing kits for your whole family. Add a tight budget and it can get downright overwhelming or anxiety inducing! Start with the most basic items that you would need for survival, as that is the whole point of these bags. As you can purchase more items and get more comfortable, you can add items. Note: Do not purchase items that will be used frequently at a cheap price point. As stated below, survival items are an area where you get what you pay for. If needed, budget for their purchases or add them to birthday gift lists, check out BST sites and sign up for coupons at reputable companies.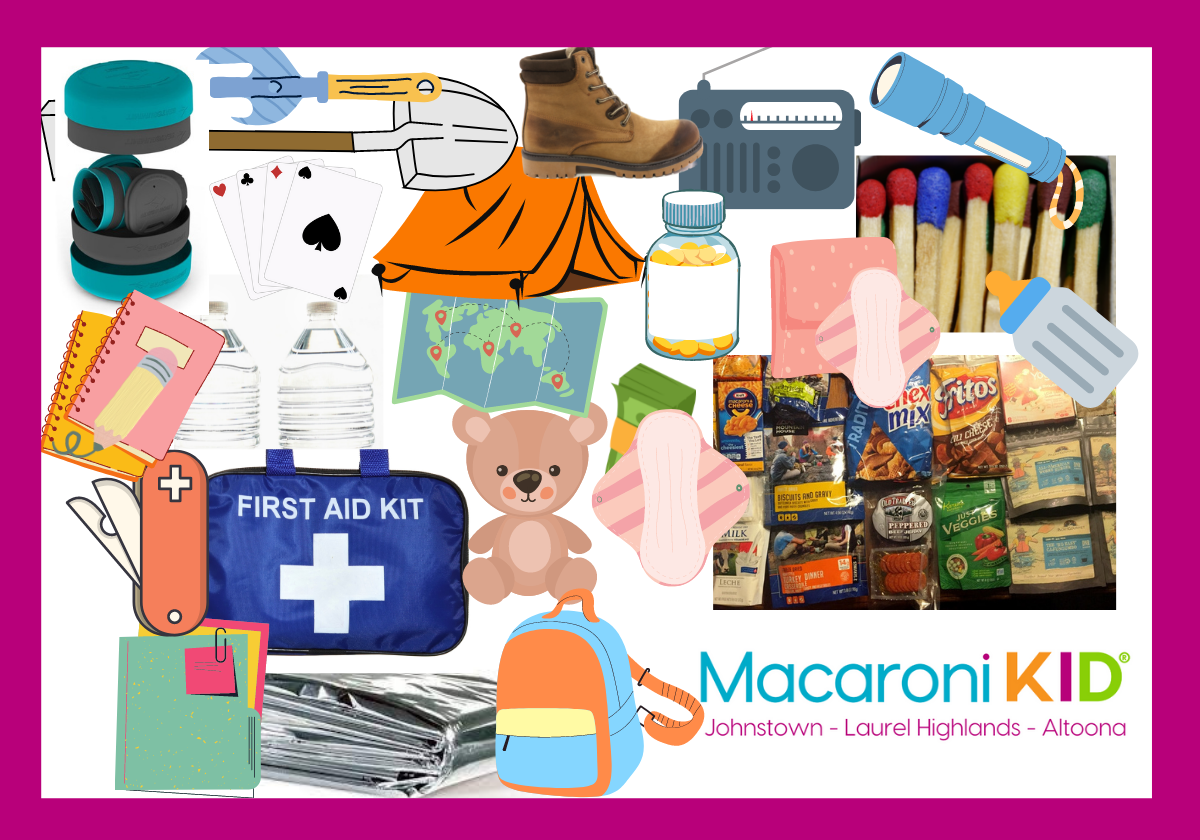 Basic items to include in your kit/bag:
Family Emergency Binder
Water - 1 gallon per person per day - 3 days minimum (water pouches are easy to pack and easier to ration)
Food - 3 day supply of non-perishable food per person (MREs are a good option)
Cell phone with chargers and backup battery and hard copy list of emergency numbers
Extra keys for house and car
Battery/Solar/Crank radio
Flashlight (solar/crank or battery operated)
Extra batteries (AA, AAA, C, D)
First aid kit, including gloves and copies of prescriptions
Body warmers
Dust Mask
Plastic sheeting, duct tape & tent
Moist towelettes, garbage bags & plastic ties (for personal sanitation)
Bug Spray
Tools
Swiss Army knife/multi-tool
Medical/natural remedies book
Rain poncho
Folding shovel
Matches/fire starter
Wrench or pliers
Can opener
Whistle & pepper spray
Work gloves
30-gallon trash bags and 10-gallon trash bags
Maps
LED headlamps
Survival blankets
Fishing line, paracord, bungee
Carabiners
Large knife
Saw
Weapon
Camelback (hydration pack)
Teddy bear or other comfort item for each person
Based on individual needs, you may also need the following:
Masks for everyone 2+ years old, soap, hand sanitizer, disinfecting wipes
Prescription medications - at least a 3 day supply
Non-prescription medications - such as pain relievers, anti-diarrhea medications, antacids or laxatives
Prescription eye glasses or contacts and lens solution
Infant formula, bottles, diapers, wipes and rash cream
Pet food and extra water for pets
Cash or travelers checks
Family documents - insurance policies, identification and bank account records saved electronically AND in a waterproof portable container
Recent family photos for identification - including pets
Sleeping bag or warm blanket for each person
Change of clothes appropriate for climate, sturdy shoes
Feminine hygiene products
Reusable mess kits - cups, plates, utensils
Writing items
Activities for children
I was able to find a free printable Emergency Supply List provided by FEMA. Make sure to add on any additional items you may need depending on your families needs.
Storing and maintaining your emergency kits/bags:
Maintenance: It is important to maintain the kit by checking them at least every six months. This could mean replacing expired food, switching out medications to keep them from expiring, update clothing as sizes change, etc.
Storage: Keep your kits where they can be easily accessed, such as in a closet, under a bed or in the trunk of the car. Consider having smaller kits in the car incase you are not able to get to your home and have a kit at your office prepared to shelter at work for at least 24 hours. Keep all home kits in a designated spot where everyone in the family knows they are.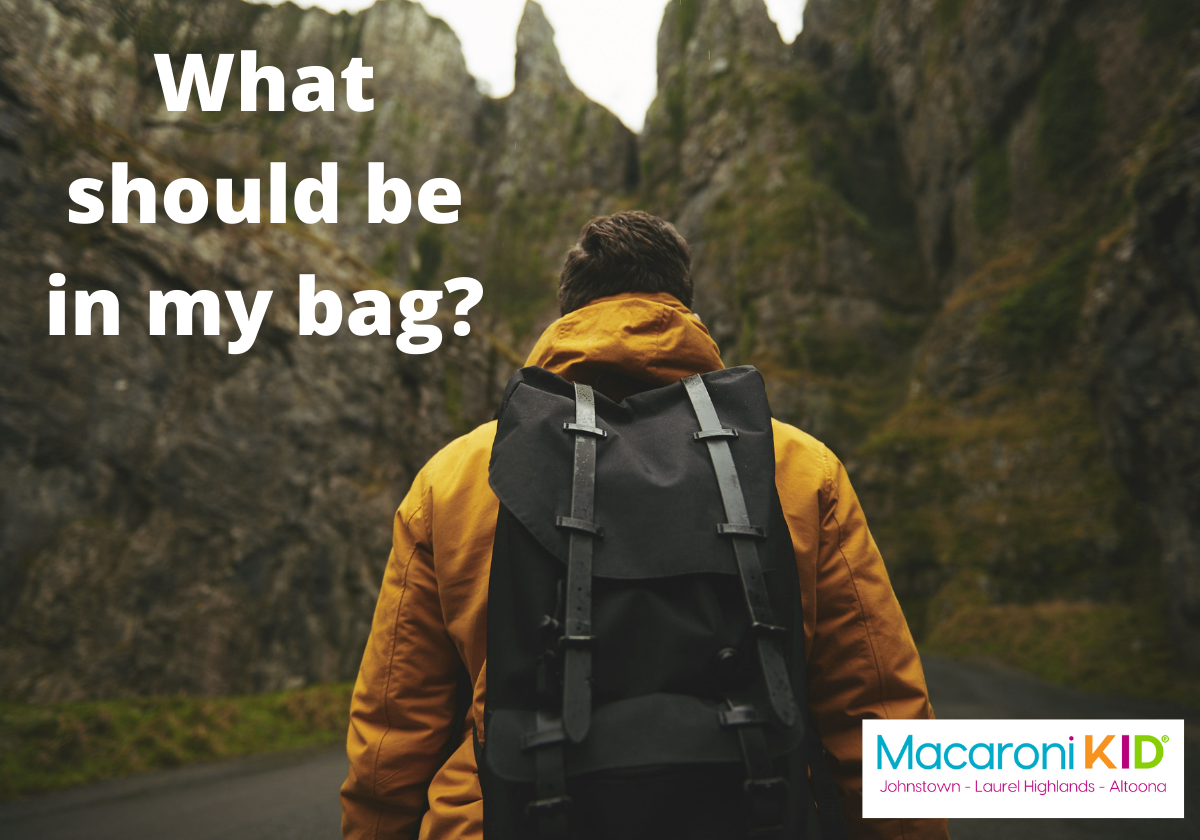 Choosing the right bag:
This is one instance where you truly get what you pay for. Bags should have padded straps, be waterproof, have multiple storage areas, and fit you well. Keep in mind that if you have several children, you'll want to get bags that are the correct size so as not to injure their backs. Every child 10+ should have their own bag. Younger children's bags should not carry essential items, so that if the bag is lost or ruined; instead pack with redundant items, as well as basic stuff/info to help whatever adult finds them and so that you can raid their bag should you lose something critical. Items could include a change of clothes, special medications, documents/photos about their family/home and items such as a stuffed animal, book, or sweets. You can also pack the youngest child's items in your bag or spread them out over each family members bags, as they may be too young to carry a pack themselves. Another option would be to add a sling pack for another family member to carry or throw over your shoulder.
When choosing a bag, keep in mind the items that you will be packing, as you will need a bag that can fit it all. You may need to ditch your car, hike miles through uneven terrain, wade through water and many other possible scenarios. Make sure you can carry the weight of your bag for long periods of time. Stay under 20% of your body weight of 45lbs, whichever is less, if you do not regularly exercise. If you do exercise and are very active, 30% of your body weight or 60lb, whichever is less, is a good rule of thumb.
Packs should:
Be able to be connected to extra packs, pouches or gear, also known as a MOLLE system
Have compression straps to hold puffy gear like sleeping bags, poncho liners, etc.
Built-in hydration compartment
Waist and sternum straps to make carrying easier
Grab and go handle
Zippered compartments with dividers
Be weather-proof!
If you're feeling overwhelmed with choosing a pack or with the idea of starting your emergency kit/bag, you can look at the sites below and begin there.
Don't forget to take your packs on a short walk to make sure they aren't over a comfortable weight. They will likely need adjusted to re-organize so that everyone has one that is comfortable. And don't forget to try to make it fun! Have the kids hunt down the extra clothes, have your teens make up a checklist and have your spouse look into the items you will need to purchase as you save for them and go on sale.
With the climate changing and what seems like daily political unrest, knowing that you have supplies ready to go at a moment's notice can help ease the stress. I hope this non-exhaustive list of resources and tips helps you tackle your family's emergency kits.
Jestine Mayes is the publisher of Macaroni KID Johnstown - Laurel Highlands - Altoona, PA.