2020 has really overstayed its welcome. Bring in a fresh start. Come on 2021!
When I was a kid, we spent the New Year together as a family, watching the Dick Clark Rockin' Eve Special, waiting for the ball to drop in Times Square, having a tiny sip of special champagne and banging pots and pans in the street with our neighbors and best friends at the stroke of Midnight. My parents NEVER went out. EVER! It wasn't until I became an adult that I discovered that not everyone was lucky like I was, to stay at home and yell "out with the old and in with the new" with my family. I was soooooo blessed and determined to give my son that gift. We modified it a bit, like by watching the Twilight Zone marathon, but the bones are the same. Family time.
I have a feeling that my favorite kind of celebrating is coming back and I have some ideas for you in case you've never done it.
A New Year's Count Down Clock for the Kids
We used to ask our parents all day, "how much longer?"
Would we be able to stay awake until midnight?
With this "clock" the kids will know exactly what time it is and they're in charge.
SUPPLIES:
At least 12 Balloons (any size but we used round)
Markers (with a soft tip)
Tape
Thumbtack
HOW TO:
Have the kids blow up the balloons. Write numbers 1-12 on each balloon. You can mark the time any way you'd like.
Tape balloons in a circle either on the wall or on the hula hoop making sure that it is appropriate height for your kids.
Have the kids pop the balloons on the hour or half hour until you reach midnight!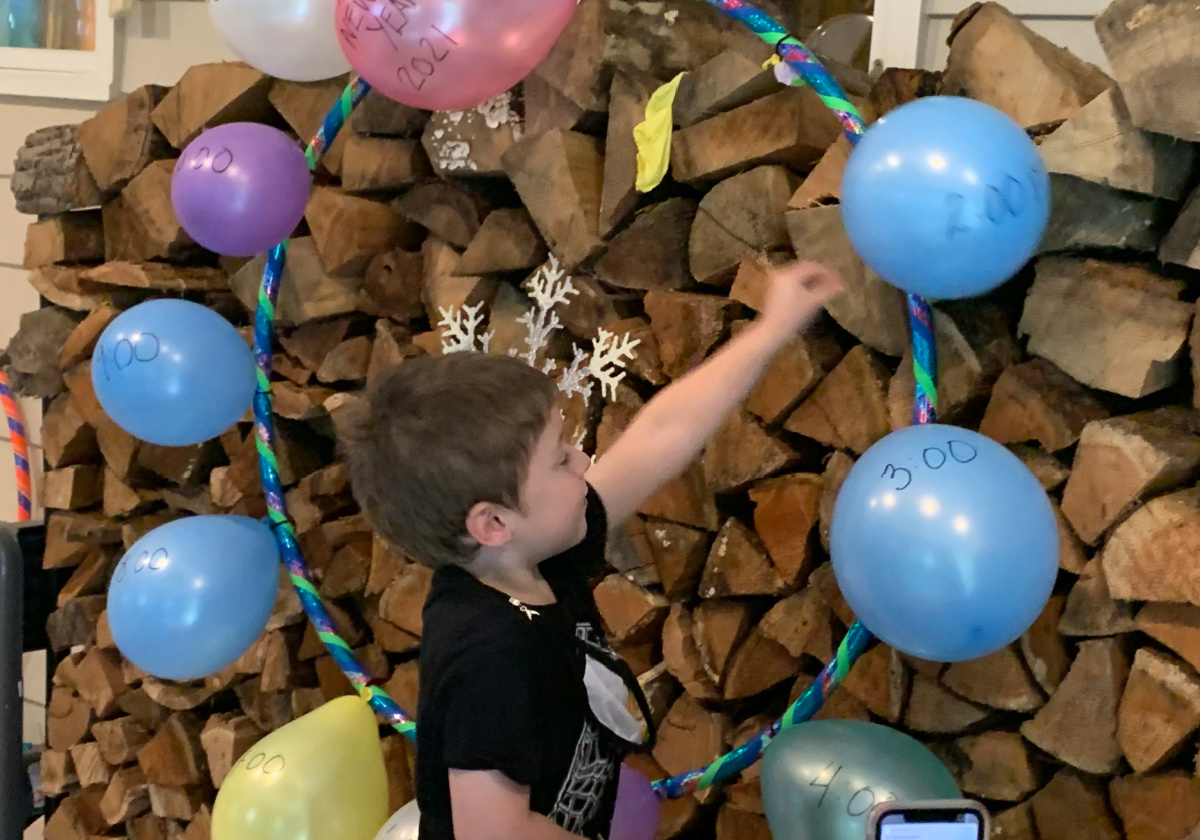 Why reinvent the wheel? I went back and found a few ideas from previous editions in our archives of fun hats. Use them as a springboard to make up your own.
Celebrate Dr. Seuss's Birthday March 2 With a Cat in the Hat Craft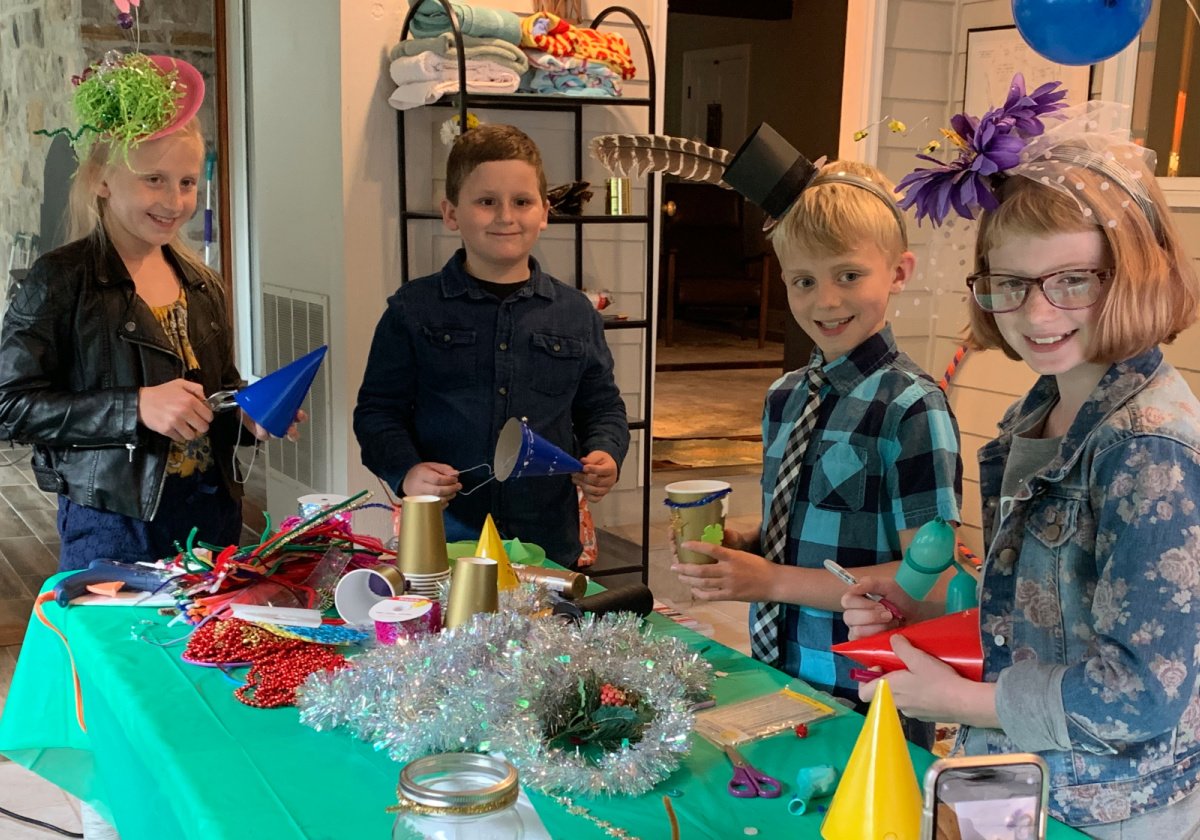 Confetti is an important part of any celebration and this one is fun because you just use what you have around the house. (see video for instructions).
SUPPLIES:
Paper cups
Scissors
Balloons
Filler like confetti, cut up bits of paper, pompoms
HOW TO:
Cut the bottoms off of the cups and the tops off of the balloons
Tie the bottom of the balloons closed.
Slip the cut end of the balloon over the bottom of the cup and secure.
Fill with items of your choice and at Midnight, pull back like a sling shot and let it fly!
This is so fun and simple. Your kids will remember this for years!
SUPPLIES:
Lots of balloons
A plastic tablecloth (we used a metallic looking one. This is a wonderful time to use that orphan tablecoth that gets shuffled away all the time.)
Duck tape or packing tape
A string or ribbon
HOW TO:
Open the tablecloth and cut it into 4 equal pieces.
Lay out and tape loosely together with the packing or duck tape.
Where the 4 corners meet in the center, leave a little space open (less than the size of one of your balloons.)
Tape a piece of string to one of the center corners tightly. This is where it will be pulled, so make sure it's on there securely and long enough to dangle so that your child can reach it to pull on it.
Tape the 4 outer corners of the tablecloth to your ceiling with sturdy tape (being careful not to damage your paint or wood-use your discretion) leaving a bow like a hammock so you can fill it with balloons.
Blow up enough balloons to fill your "hammock".
At midnight, have your child pull on the string and release the balloons!
WATCH HERE HOW WE MADE THESE ON AROUND THE ALLEGHENIES
GET OUT THE POTS AND PANS
They're free and almost always clean! Pots and pans. Many sizes of pots combined with many sizes of lids, make many different sounds. This is the ultimate for kids. Let them loose with metal spoons and watch a parade break out. No directions needed!
🌸 Macaroni Kid Johnstown/Laurel Highlands/Altoona is a free weekly e-newsletter and website that highlights all of the great things for kids and their families to do in the community. Plus, you can find fun activities, family-focused businesses, book and product reviews, recipes, crafts, and much more! Macaroni Kid Johnstown/Laurel Highlands/Altoona serves families in Johnstown, Ligonier, Ebensburg, Hollidaysburg, Altoona and other surrounding communities.
Get a FREE event calendar for the Johnstown-Laurel Highlands-Altoona , PA region full of festivals, fairs, activities, events and more! Sign up by clicking HERE!
Is your business, church or group holding a family-friendly event that is not listed? Submit the event by CLICKING HERE! Thank you!